$ 300,000 raised in support of the 2,000 children with cancer in Quebec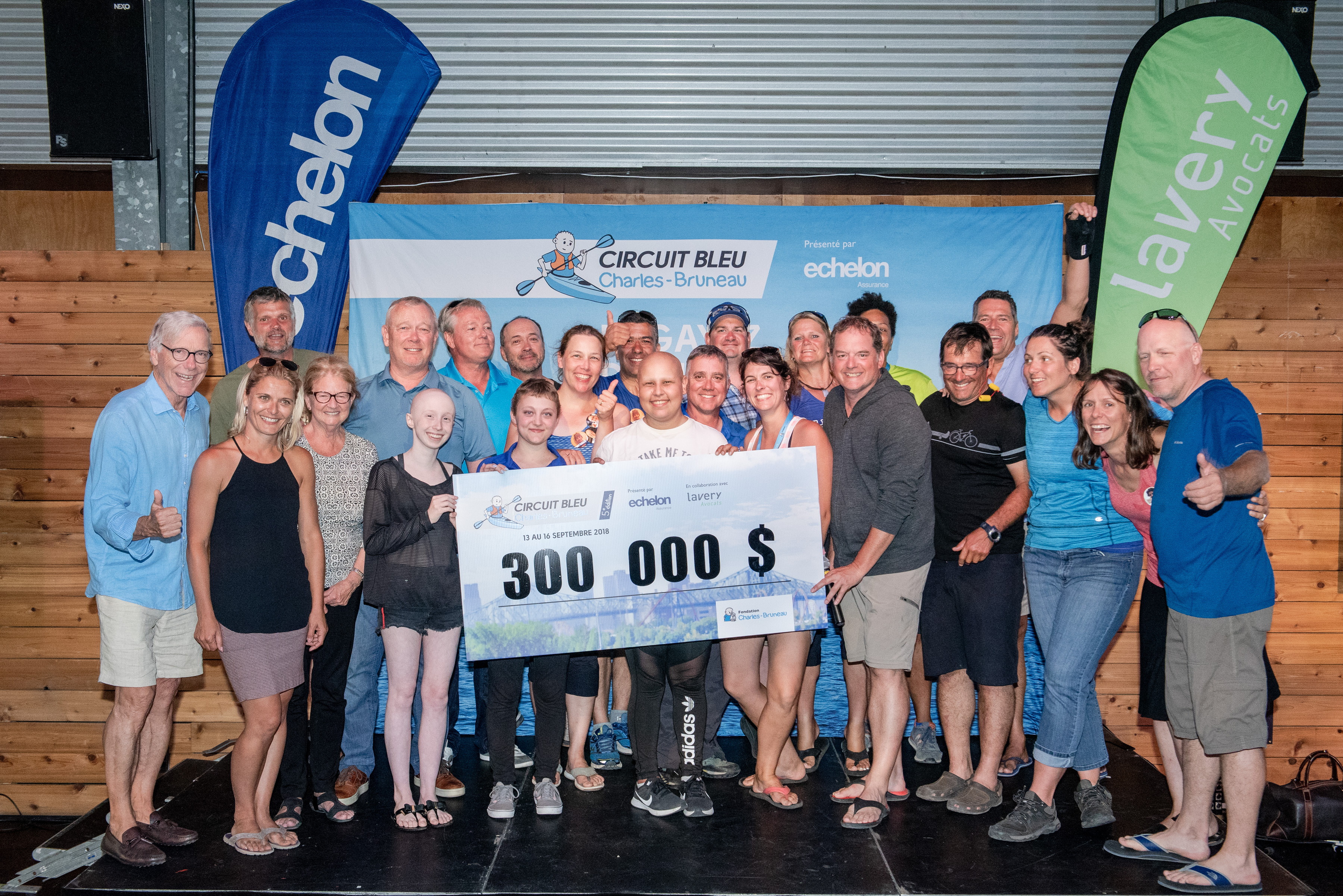 Great wave of hope for the 5th edition of the Circuit bleu Charles-Bruneau
It is with great emotion that Pierre Bruneau and Paul Doucet, both spokespersons of the Charles-Bruneau Foundation, unveiled a cheque for $ 300,000, a record amount raised during the 5th edition of the Circuit bleu Charles-Bruneau. They were accompanied by two of the event's five spokespersons, adventurer and speaker, Mylène Paquette, and radio host, Denis Fortin.
"Once again, to all the participants, donors and partners, I say a huge thank you for being so generous. Thanks to your efforts and your donations, we will defeat pediatric cancer and allow all children to grow up healthy.", said Pierre Bruneau in front of the assembled crowd that welcomed the kayakers on their arrival at the Old Port of Montreal.
In total, more than 110 km around the island of Montreal have been paddled by the participants over the course of 4 days. A real sense of accomplishment prevailed at the arrival ceremony to which kayakers, families, colleagues, friends, and partners participated.
"Every paddle stroke you did was to support Dania, Sara, Mélie, Sarah-Léane and all the other children who are counting on us. What we went through in the past few days is nothing compared to what they had to face. Each stroke makes the difference and brings them closer to their hope of healing and leading healthy lives. It's a real wave of hope we created on the water. Congratulations to each and every one of you!", added Mylène Paquette.
Circuit bleu Charles-Bruneau photo albums
The 2018 Circuit bleu Charles-Bruneau
Record sum raised: $ 300,000
5th edition
The 2018 edition took place from September 13 to 16, 2018
110 km in 4 days
140 kayakers (between 45 and 80 participants per day)
Essential partners
The Charles-Bruneau Foundation would also like to thank all the sponsors, partners, volunteers, and other actors who participated in the success of this 5th edition of the Circuit bleu Charles-Bruneau.
"Échelon Assurance is proud to have mobilized its team for a second consecutive year for this leading event. The cause is too important for us not to join in. We will definitely be back for the 6th edition next year!", said Ron Pavelack, Vice President Quebec, Échelon Assurance, member of the organizing committee and main presenter of the event.
The Charles-Bruneau Foundation has also been able to count on new partnerships such as Lavery Lawyers, Parmalat, and Hub International as well as the expertise of Service intervention et formation aquatique (SIFA) and experienced guides throughout the event. Finally, the Foundation has, among other things, benefited from the essential support of Boreal Design, Outfront Media, and Quebecor.
Pediatric cancer in Quebec
Cancer is the leading cause of death from illness among children aged 0 to 18
One in 400 children is diagnosed with cancer before the age of 15
More than half of the children are under 5 at the time of diagnosis
To see the kayakers in action
Check out the Foundation's Facebook, Twitter, Instagram (#CircuitbleuCB) and YouTube platforms.