The Story of Charles
On the road to fulfilling a little boy's dream
"When I grow up, I will be cured!"
We owe this dream and its moving message of hope to Charles. His dream is now shared by all children fighting to overcome this dreaded disease.
The Fondation Charles-Bruneau draws inspiration from Charles's perseverance in its efforts to lead the fight for life for as long as it takes. The road to a cancer-free future for children was his, and now that road is ours. In his memory. And on behalf of all the children who deserve to grow up healthy.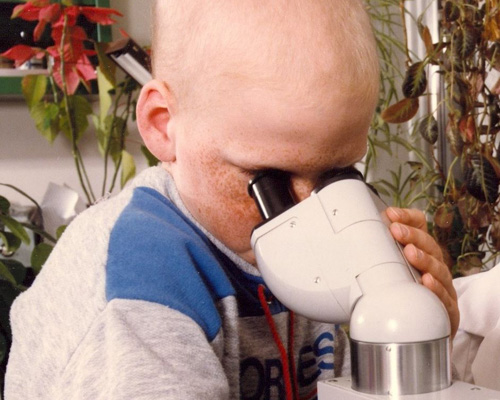 The story of Charles
Charles was diagnosed with leukemia in 1979. He was just four years old. For the rest of his life, he would wage a courageous battle, surrounded by his loved ones. And in spite of the pain and hardship caused by the disease, he remained a child like every other – full of life and joy. Adults and children alike were profoundly moved by the great strength and willpower shown by this exceptional child.
On March 9, 1988, Charles quietly handed the torch to us.
Through the Fondation Charles Bruneau, recognized nationwide for its pediatric hematology and oncology research, Charles continues his inspiring and meaningful journey.
Our history
The Fondation Charles-Bruneau was created in 1990 by a group of parents and friends of children with cancer. Its creation was inspired by a dream: that of establishing a place in Québec where children with cancer could receive treatment and where research could be carried out to find a cure.
The Fondation believes that children with cancer are entitled to the best care available. It thus works to support Québec's position and development in the area of pediatric oncology.
Current situation
Currently, more than 2,000 Québec children are living with cancer, and close to 300 new cases are diagnosed each year.
The Fondation hopes that one day, all these children can say, "When I grow up, I will be cured!"
We're on our way to making that dream come true, and it's only a question of time before we do. Together. With the memory of Charles in our hearts.