Planned Donation
Your donation is precious.
To make the dream cherished by Charles ("When I grow up, I will be cured!") a reality for children all across Québec, the Fondation needs support today so that it can better plan its future.
In this regard, the Fondation Charles-Bruneau places great importance on planned donations, which allow it to chart its development by providing resources in the medium and long term.
What is a planned donation?
A planned donation is a kind of charitable donation that is an integral part of sound financial and estate planning. It consists of giving, while alive or after death, a part of the assets accumulated during the course of your lifetime, based on your personal, family or financial situation.
This type of donation is not reserved solely for the wealthy or people with no children. It represents a concrete gesture that anyone can make to support a cause they hold dear over the long term.
The Foundation's Planned Giving Policy
A word from Pierre Bruneau
"When my son Charles was diagnosed in 1979, children had a 35 percent chance of overcoming cancer. Today, thanks to investments in research, that hope for a cure has risen to 80 percent. Even now, after serving as a spokesperson for the Fondation for so many years, I continue to believe that one day, all children with cancer will suceed in making the dream cherished by Charles, 'When I grow up, I will be cured,' a reality. It's vital that we continue to support research and thus improve the day-to-day lives of children with cancer. A planned donation is an ideal way to make a meaningful gesture. It's important, for me, to ensure continuity for this cause that I hold dear. Knowing that people are prepared to support the Fondation in the long term lets me look to the future of these children, victimized by cancer, with a great deal of serenity. Thank you!"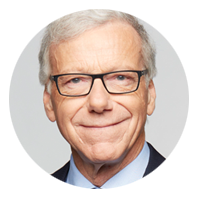 Why make a planned donation to the Fondation Charles-Bruneau?
To give hope to children with cancer by supporting them in a sustained manner;
To support a cause you hold dear in a more significant manner;
To allow your heirs, based on the type of donation selected, to benefit from certain tax advantages related to estates;
To benefit from significant tax advantages yourself;
 To deepen your values of mutual assistance, solidarity and sharing;
How to make a donation?
A planned donation is a carefully considered gesture. Speak to various professionals – a personal insurance broker, financial advisor and planner, notary, accountant, tax expert or lawyer – to ensure that you have all the information you need to make an informed decision, based on your situation. The Fondation can assist you through this process by referring you to qualified professionals.
For further information, please contact us at 514 256-0404.
Immediate Donations
Deferred Gifts