$4.7M raised for the 25th edition of the Tour CIBC Charles-Bruneau!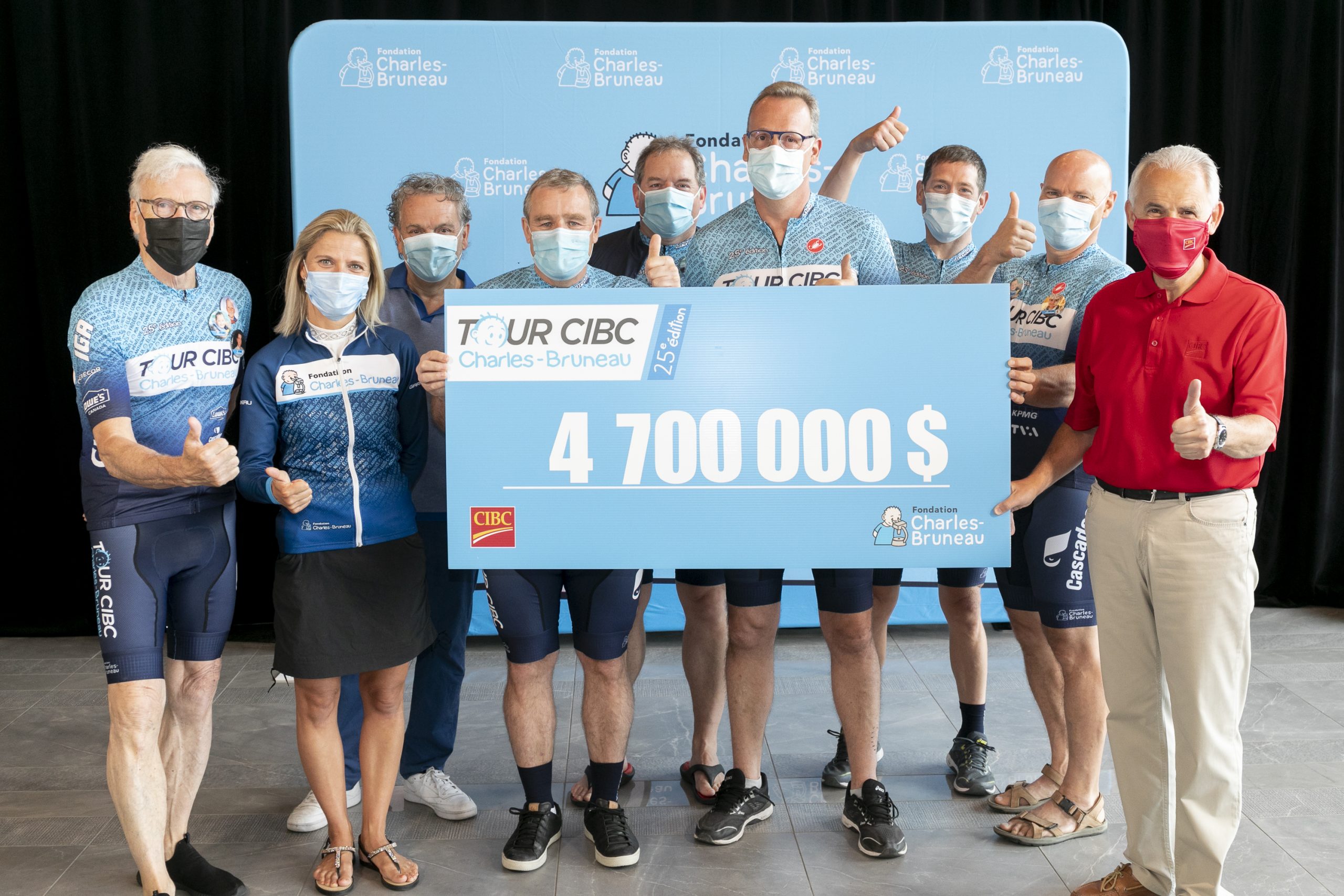 The 25th edition of the Tour CIBC Charles-Bruneau ended in an energetic atmosphere. Today, 736 participants rode a 140 km loop from Saint-Hyacinthe, Bromont or Rougemont, a 50 or 80 km loop from Boucherville, or a long-distance route throughout Quebec. At the end, 736 participants rode for a cause that is close to each one of their heart: a cancer-free childhood.
In total, $4.7M will be invested in various pediatric hematology-oncology research projects, thanks to the mobilization of all the participants and the generosity of the Quebec population. That amount of money is all the more significant for the Foundation, given the challenges overcome due to the ongoing pandemic.
A winning formula
The 25th edition of this not-to-be-missed cycling event was a great success thanks to the cyclists, volunteers and loyal donors who spared no effort this year, once again.
While the event was cancelled last year due to the pandemic, the organizers came up with a new formula allowing everyone to ride in the region of their choice and according to the desired distance: One Cause, My Ride. Combined with the classic formula, the distance formula allowed 105 cyclists to register independently and ride from July 3rd to July 9th in their region on a route of their choice, at the benefit the Foundation.
Then, towards the end of the day today, the revisited formula of the Tour CIBC Charles-Bruneau came to a close, during which 631 participants rode in a loop starting from four different cities: Saint-Hyacinthe, Rougemont, Bromont and Boucherville. Symbolically paired with a child with or in remission from cancer, each cyclist proudly wore a button near his or her heart with a photo of the child he or she had the opportunity to meet during the event.
The Fondation Charles-Bruneau wishes to warmly thank the 40 children who were matched as well as its four heroes of the route, who kindly accepted to get involved for the event, in addition to having been true sources of inspiration and hope:
Logan Boucher, 3 years old – hero of the Découverte Boucherville route;
Samyra Duchesne, 16 years old – hero of the Bromont start;
Vincent Gariépy, 18 years old – hero of the Rougemont start;
Noémie Mercille, (2009-2020) – heroine of the Saint-Hyacinthe start, represented by her sister and her mother, Annie Bernier, who is participating in the Tour as a cyclist.
The 25th edition of a major event is a considerable milestone for any organization, and the Fondation Charles-Bruneau is very fortunate to be able to count on its long-time partners: CIBC, IGA, Cascades and Lowe's Canada. We thank them from the bottom of our hearts for their extraordinary commitment to pediatric cancer research.