A Successful First Edition of the Tour CIBC Charles-Bruneau Partner Breakfast Panel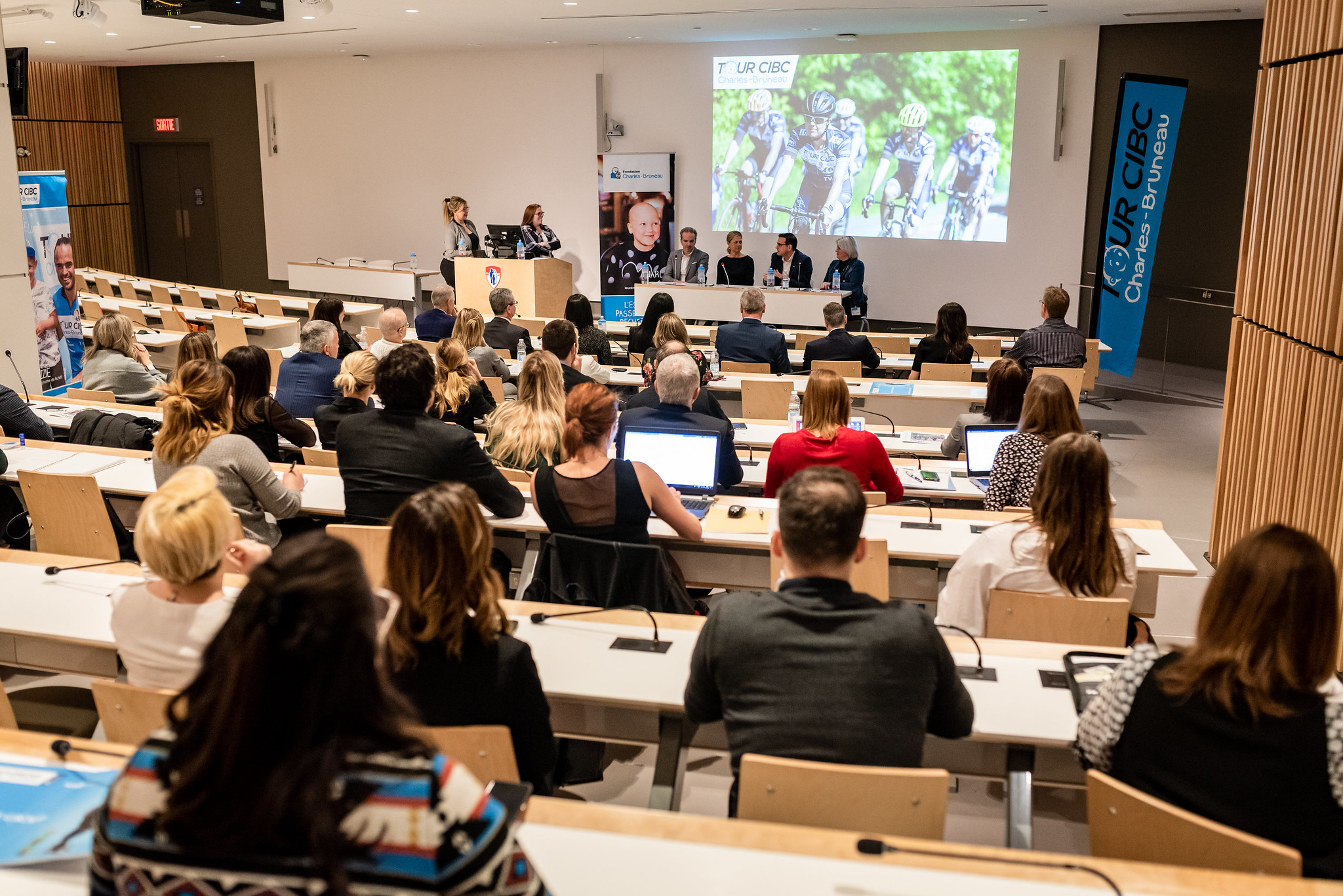 On January 23, the Tour CIBC Charles-Bruneau organizing committee brought many of its valuable partners and corporate teams together for its inaugural breakfast panel, which was held at the McGill University Health Centre auditorium. Through this initiative, members of the steering committee hoped to create a forum for discussion to inspire partners and corporate teams and highlight their great work with fundraising, cyclist recruitment and business initiatives.
The idea to organize the event first occurred to the Tour's steering committee members, a number of whom represent leading companies and long-term partners of the Fondation, in fall 2018. Several attendees were also invited to take the floor as speakers or panellists at the event, including Sylvain Vinet, Region Head and Senior Vice-President – Eastern Canada at CIBC and Chair of the Tour's steering committee, Guillaume Bouvier, Vice-President of Operations at Cascades Tissue Group, Patricia McKenzie, Marketing Director at IRIS The Visual Group, and Ève Kirlin, Events Coordinator at Sobeys. André Thibeault, Partner and Senior Director of Transport at CIMA+, a partner of more than 12 years, also spoke as a panellist.
Co-chaired by Sophie-Emmanuelle Chebin, Co-founder and Partner at Arsenal conseils, and Fabienne Audette, Director, Administration and Development at the Fondation Charles-Bruneau, the event gave panellists and participants the opportunity to discuss various topics related to their involvement in the Tour, identify strategies to overcome challenges involved in mobilizing and recruiting team members, and recognize the added value that philanthropic engagement with the Fondation Charles-Bruneau brings to a company's employees.
The event concluded with a lecture on the fascinating topic of neuromarketing by Julien Brunet, Partner and Head of Strategy at CRI agence, and a guided tour of the Charles-Bruneau Hematology-Oncology Day Treatment Centre at the Montréal Children's Hospital.
Based on the feedback we received, attendees left the inaugural partner breakfast panel with:
• A better understanding of the support that the Fondation Charles-Bruneau's permanent team provides to businesses and Tour participants.
• Concrete examples of fundraisers and initiatives to introduce in their organization, depending on its size.
• Forms of employee recognition/support to encourage philanthropic engagement.
• New ideas to build upon existing initiatives and spark enthusiasm among internal staff.
• Simple and effective solutions to support employees who decide to participate in the Tour and collect donations.
• The feeling that they are supported by the Charles-Bruneau family and are making a tangible contribution to improve the lives of thousands of Québec children living with cancer.
Thanks to the involvement of partners and businesses in each edition, the Tour CIBC Charles-Bruneau has built a reputation as one of the most well-known and reputable philanthropic cycling events in Québec. This July, the Fondation will proudly celebrate the 25th anniversary of the Tour, which has raised $34,958,000 since its inception in 1996.
Thank you to all the partners and businesses who attended the panel, and to everyone working with us towards a cancer-free future for children. It is a great privilege to have your support, which allows us to envision a bright future for our children. Thank you for believing in us!
To view the event photo album, visit https://bit.ly/36BghSc.
Follow us on Facebook and LinkedIn to stay up to date on news and activities related to the 25th edition of the Tour CIBC Charles-Bruneau.