Amazon YUL2 wins gold and donates $25,000 US to the Charles-Bruneau Foundation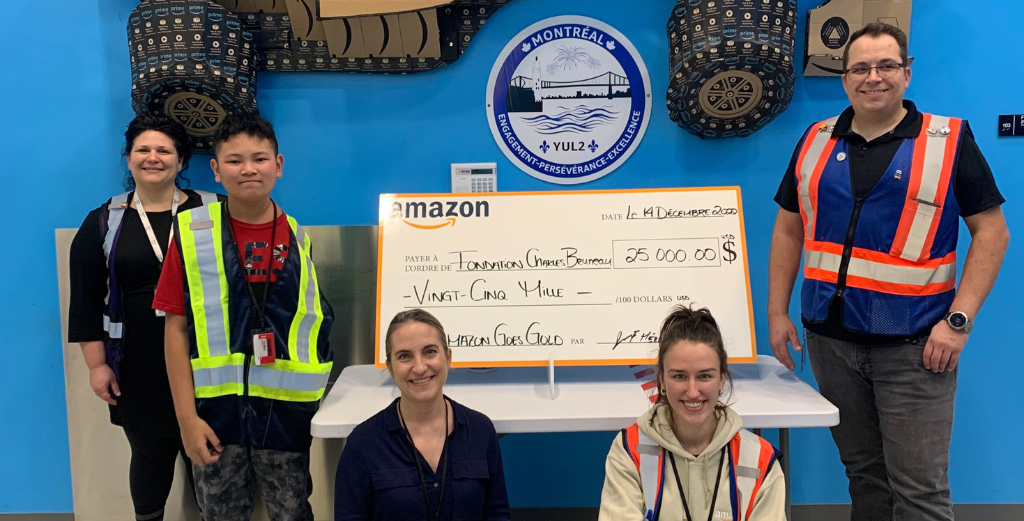 For the third year in a row, team members from Amazon's YUL2 distribution center in Montreal won the PJammin® for Kids with Cancer challenge. The Montreal team was thus able to donate US$25,000 to the Charles-Bruneau Foundation to help fund research projects in pediatric hematology-oncology.
This activity took place in September, as part of Childhood Cancer Awareness Month. Amazon employees around the world were invited to dress in their pajamas, a reference to the clothes that children with cancer often wear during their hospital stay. The Montreal distribution center had the highest participation rate, allowing the team to win the honors, for the benefit of the Charles-Bruneau Foundation.
A very special visit
In addition to their generous donation, the Amazon YUL2 team invited Angelo, a young patient from the Centre de cancérologie Charles-Bruneau at CHU Sainte-Justine, for a tour of their facilities. As the 12-year-old boy is a lover of technology and computers, he greatly enjoyed the visit to the state-of-the-art distribution center. Accompanied by his mother, he was able to tour the site and even prepare his first orders!
A huge thank you to Jean-François Héroux, YUL2 site manager for Amazon Canada, who motivated his team to win the activity for a third year.