Big wave of hope for the 4th edition of the Circuit bleu Charles-Bruneau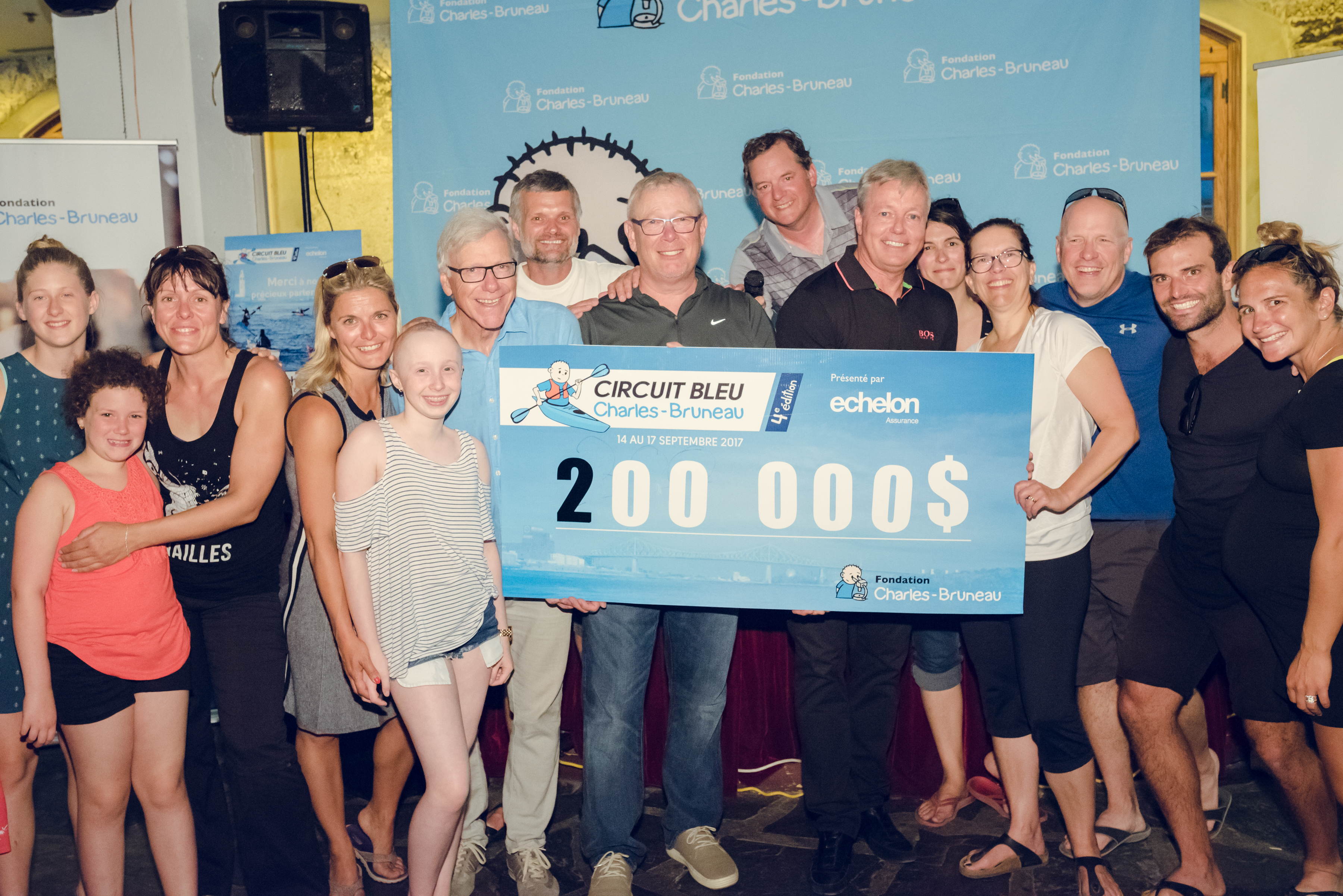 $ 200,000 raised in support of the 2,000 children with cancer in Quebec
MONTREAL, September 17, 2017 – Pierre Bruneau, news anchor at TVA and Paul Doucet, actor, both spokespersons for the Fondation Charles-Bruneau, unveiled a check for $ 200,000  – a record amount for the event. They were accompanied by the three spokespersons of the Circuit bleu Charles-Bruneau: Mylène Paquette, adventurer and speaker as well as Hugues and Emilie Fournel, Olympic kayakers.
"Once again, you prove that together we can accomplish great things. I am proud to see you come together after having accomplished this great challenge. I am happy to count you by our side to continue the great mission that we have given ourselves, " said a teary-eyed Pierre Bruneau, in front of the crowd.
In total, more than 110 km around the island of Montreal have been paddled by the participants during the last 4 days. A real sense of accomplishment prevailed at the arrival ceremony to which kayakers, families, colleagues, friends and partners participated.
"What a wonderful 4th edition we had! I'm leaving, again, with my heart and my head filled with magical moments. Even the sun and the heat were part of it!" added Mylène Paquette.
Indispensable partners
The Fondation Charles-Bruneau would like to thank all the donors, partners, volunteers, and others who have participated, from near and far, in the great success of this 4th edition of the Circuit bleu Charles-Bruneau.
"Echelon Insurance is deeply attached to the event and the Foundation's team. The cause is too important for us to sit idly by. We have mobilized our teams and will do more next year because it is with great pride that I announce that we will be there for the 5th edition! "said Ron Pavelack, Vice President Quebec of Echelon Insurance, member of the organizing committee, and main presenter of the event.
The Fondation Charles-Bruneau was also able to count on the expertise of Service intervention et formation aquatique (SIFA) and experienced guides throughout the event. Lastly, the Foundation has benefited from the indispensable support of Boreal Design, Québecor and Outfront Media.