Collecting refundable containers safely, in solidarity and for the benefit of research!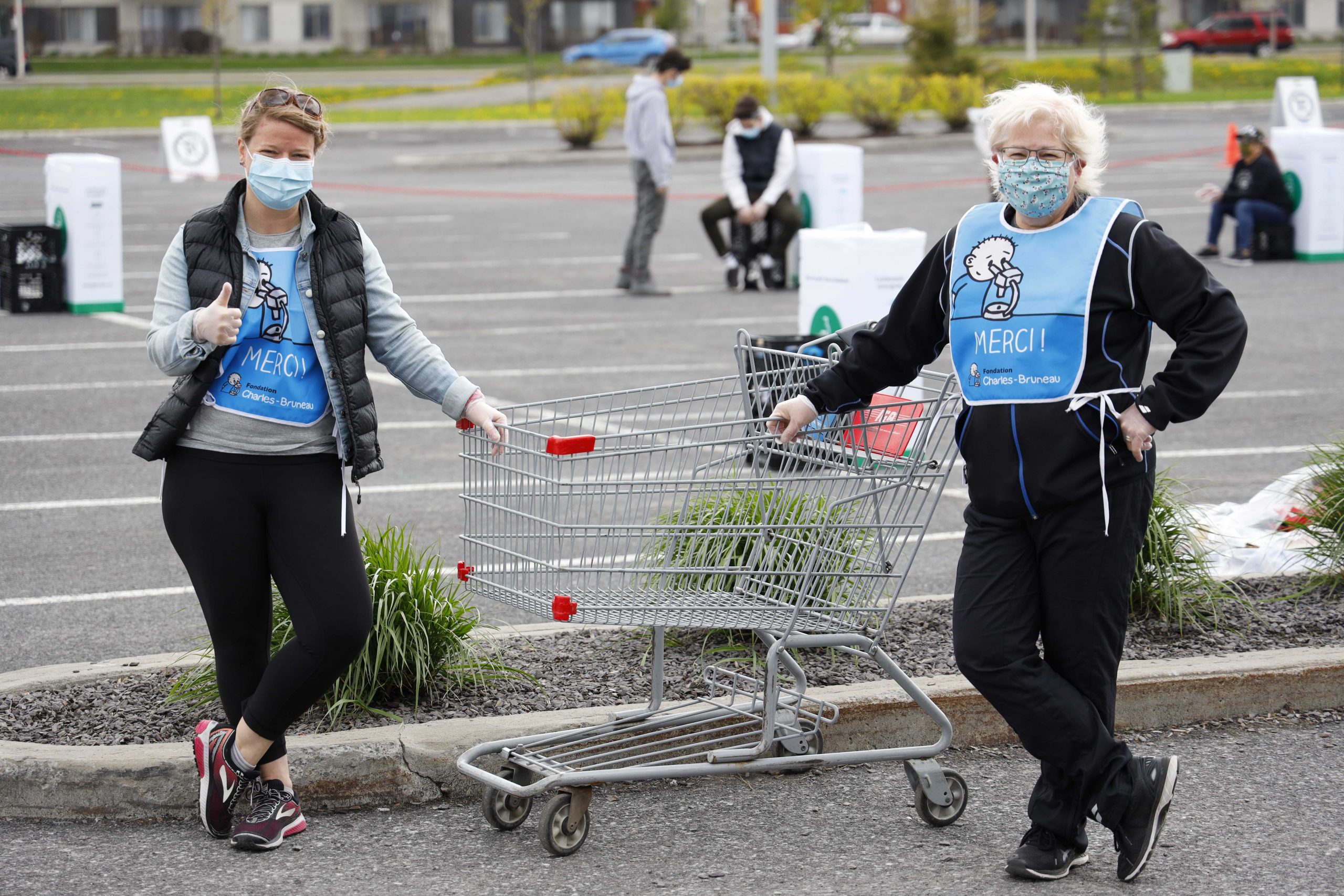 Last Saturday, thousands of Montrealers participated to the first Solidarity Collections to give back to the community, while getting rid of the cans and bottles that had been stacking up in their homes since the beginning of the pandemic.
The Fondation Charles-Bruneau is privileged to be one of the causes benefiting from the Solidarity Collections program on the island of Montreal. Launched on May 16 by well-known food companies, including IGA merchants, these collections offer the citizens of Greater Montreal a safe and eco-friendly way to dispose of their refundable containers. Due to the current configuration of grocery stores, it is impossible to take back refundable containers from inside grocery stores. Grocers also want to protect employees and customers by limiting as much as possible the number of customers and unnecessary handling.
To coordinate the logistics of these solidarity duties on the island of Montreal, the great family of IGA merchants can count on the help of the organization Earth Day. According to Pierre Lussier, director of Earth Day Quebec, close to 350 million returnable containers have been sold across Quebec since mid-March and are now just waiting to be recovered and recycled.
The organization, which annually organizes all kinds of awareness-raising activities on environmental issues in Quebec, is proud to be able to bring its expertise in residual materials management to an initiative that gives back to local causes. In fact, all the profits collected during the program will be donated to three local causes: Moisson Montréal, Les Valoristes and the Fondation Charles-Bruneau.
For our long-time partner, IGA, this commitment once again reflects the human values of the company, which never misses an opportunity to give back to its community. For several years now, the generosity of IGA and IGA extra merchants in Quebec has been helping us move towards a cancer-free childhood through various campaigns and fundraisers in support of our cause.
Dates and places of collections in support of the Fondation Charles-Bruneau
Solidarity Collections in Montreal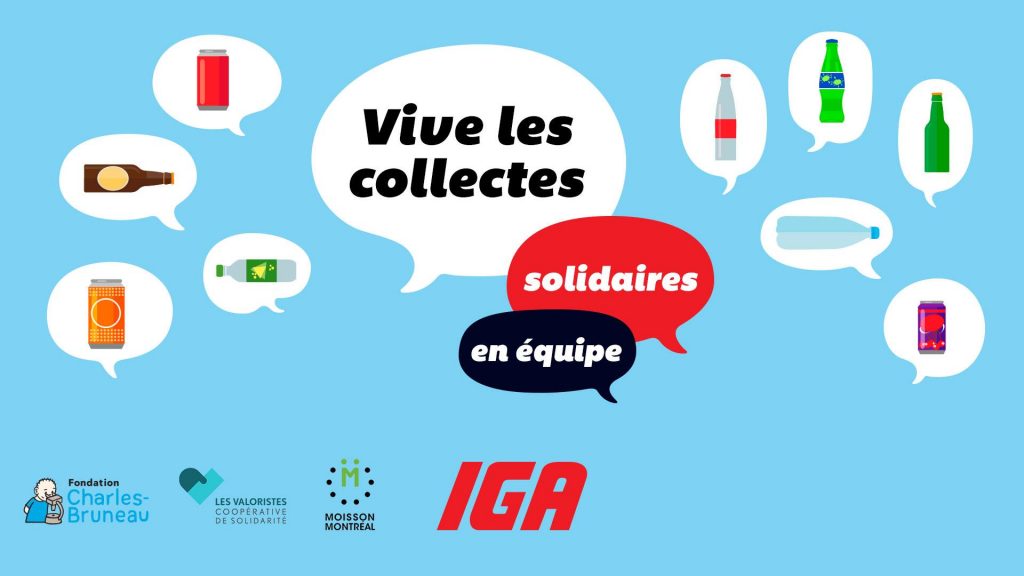 On Saturdays during the month of May, all of the city's arrondissements will operate several collecting points. Most of the collections organized by IGA will take place in the outdoor parking lots of their grocery stores, where it is easier to apply social distancing measures.
For more information on the location of fundraising sites for our cause, visit the event section of our Facebook page as well as the Earth Day website.
Solidarity Collections in Brossard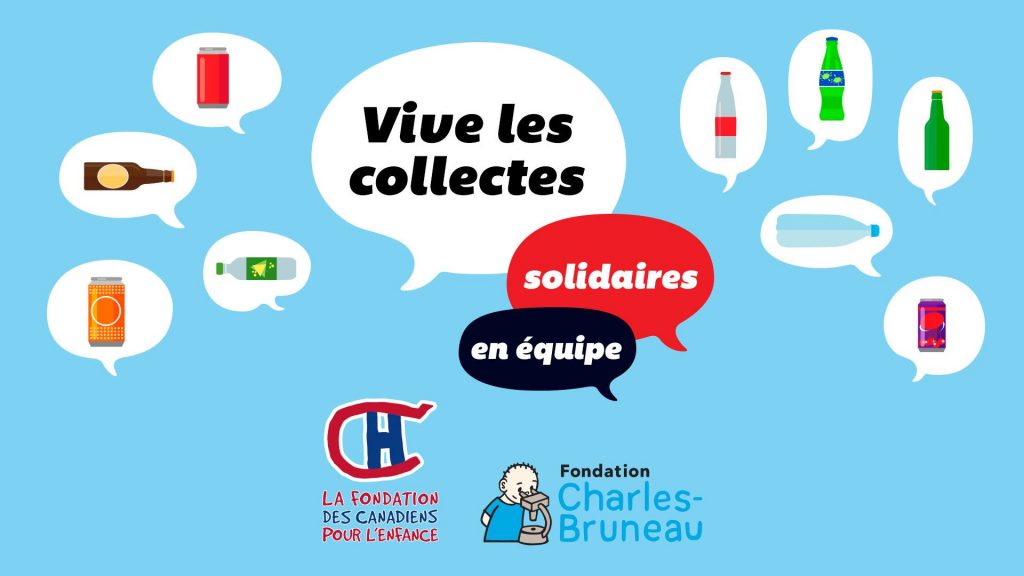 On Saturdays, May 23 and 30, Montrealers and South Shore residents will also be able to dispose of their refundable containers in the parking lot of the Bell Sports Complex. This time, the funds raised will be donated to the Montreal Canadians Children's Foundation and the Fondation Charles-Bruneau.
Dates: 23 and 30 May 2020
Hours: between 10 a.m. and 3:30 p.m.
Address: Montreal Canadiens Bell Sports Complex (8000 Leduc Boulevard, Suite 104, Brossard, Quebec, J4Y 0E9)
Rules to be followed in order to follow public health instructions
Rinse your returnable containers;
Pre-sort your containers and place them in bags to separate glass bottles from plastic and cans;
Upon your arrival at the site, stay in your vehicle in order to minimize contact. Volunteers will be responsible to retrieve the bags from your trunk.
---
Thank you to the volunteers of the Fondation Charles-Bruneau who joined us to welcome motorists in the various facilities. These collections would not be possible without them.

Thank you to our valued partner IGA and to the organization of Earth Day for offering Montrealers a safe way to dispose of their returnable containers, while supporting our mission. Long live solidarity!