Omnium Prestige Charles-Bruneau presented by GDI Integrated Facility Services in collaboration with Cominar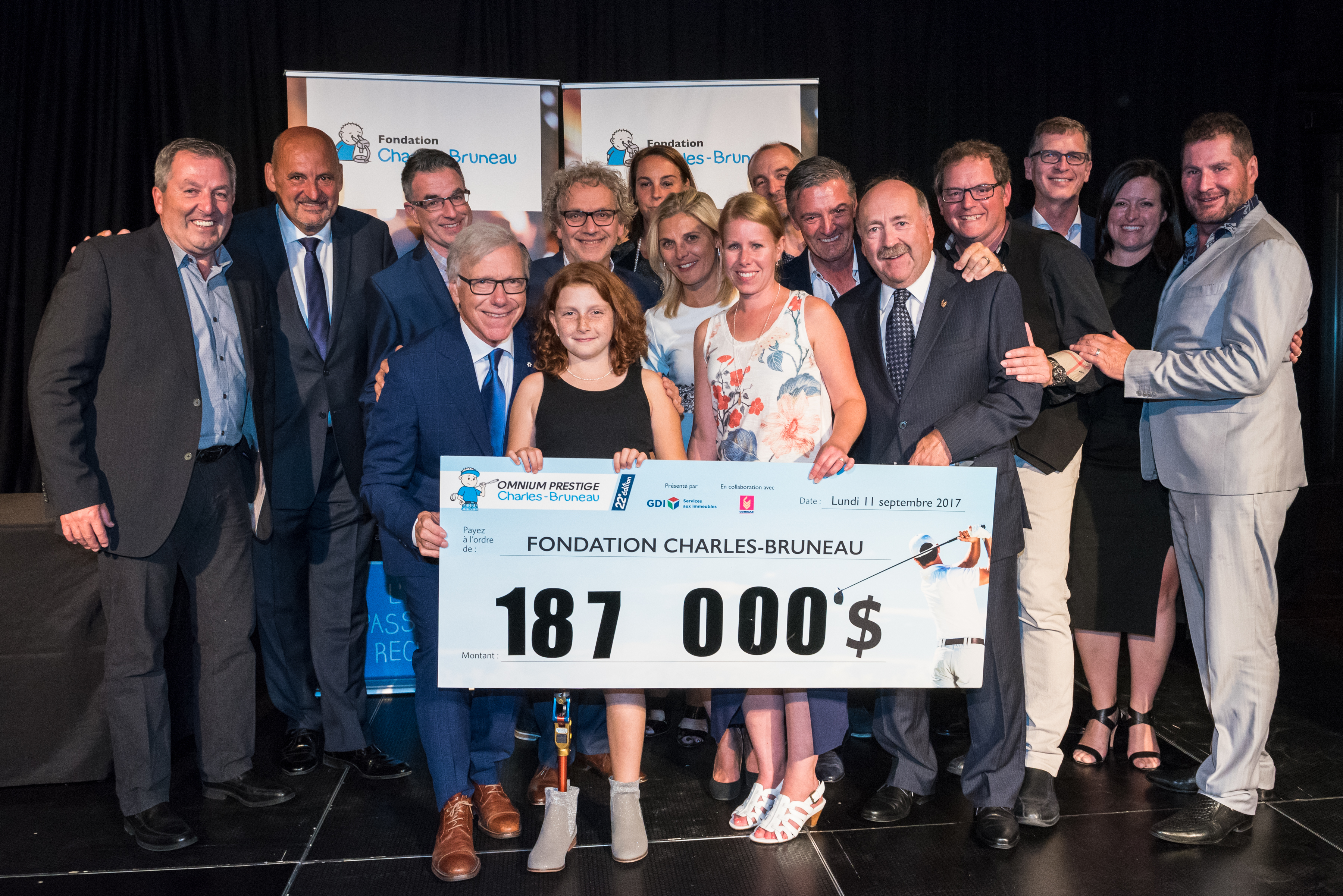 A successful 22nd edition
On Monday, September 11, 2017, was held the 22nd edition of the Omnium Prestige Charles-Bruneau at the magnificent Le Mirage Golf Club in Terrebonne. We welcomed more than 270 golfers from the business field, all mobilized in order to give children with cancer the best chances of recovery. Thanks to their generosity, we raised the sum of $ 187,000 and thus exceeded our financial goal! The Honorary President of the event was Mr. Guy Charron, Executive Vice President, Retail Operations at Cominar.
The day of golf was followed by a supper, a silent auction and a traditional auction led by the magician Alain Choquette. We have also been fortunate to have with us, Émylou, 10 years old, in remission from synovial sarcoma. She was accompanied by her father.
Members of the organizing committee wish to extend a warm and hearty thank you to all the volunteers, donors, partners and participants of the 2017 edition. We look forward to seeing you again next year!
Since its inception, the Omnium Prestige Charles-Bruneau has made a significant contribution to the realization of a great dream, raising more than $ 2 million for children with cancer.
MEMBERS OF THE ORGANIZING COMMITTEE
President
Michel Bouchard, Groupe Maurice
Members
Jocelyn Trottier, GDI Services aux immeubles
Guy Charron, Cominar
Karine Aubé, Oxford
Jean-François Grenier, Groupe Altus
Frédéric Labrie, Raymond Chabot Grant Thornton
Jacques Lacoste, GDI Services aux immeubles
Daniel Poirier, Groupe Luxor
Linda Rouleau, Cominar
Rémy Therrien, Croesus Finansoft
André Yelle, Yelle Maillé architectes
Mélissa Maltais, Fondation Charles-Bruneau