Symbolic departure of the four-day Trek for Hope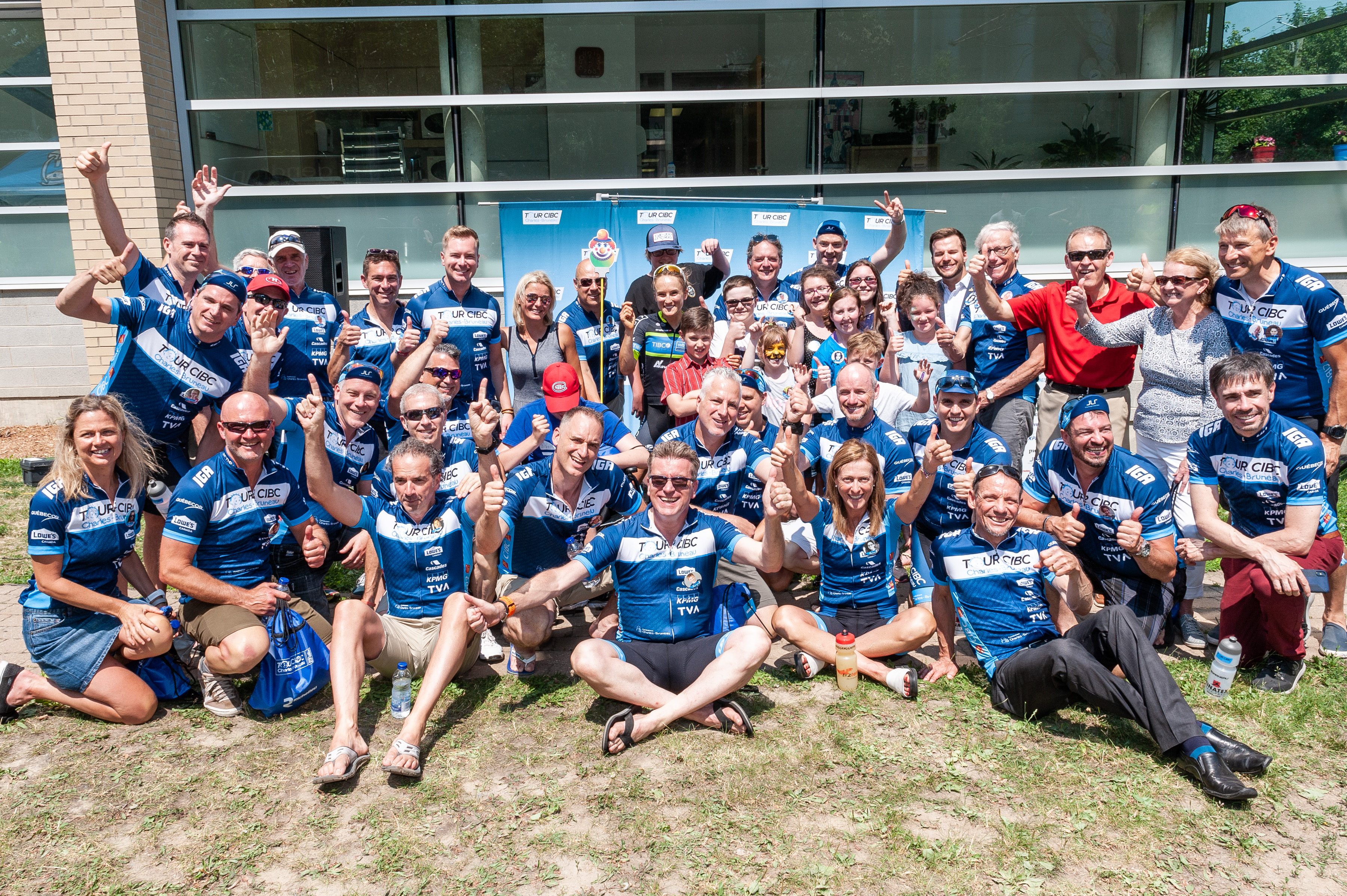 Hope the watchword as the 23rd edition of the Tour CIBC Charles-Bruneau gets underway
Montreal, July 2, 2018 – With hope in their hearts, a beaming Pierre Bruneau, Paul Doucet and Yvan Martineau and their team of cyclists bid a final goodbye to the families and partners gathered this morning at the CHU Sainte-Justine's Centre de cancérologie Charles-Bruneau, before boarding a bus bound for the Rivière-du-Loup region for the four-day Trek for Hope marking the start of Tour CIBC Charles-Bruneau.
Back for the 23rd straight year, the Charles-Bruneau Foundation's cycling event officially gets underway tomorrow, when some 40 cyclists embark on a 600-km cycling trek that will see them travel from Montmagny to Québec, Sorel-Tracy and Boucherville from July 3 to 6.
Inspiring heroes
As is the case each year, children with cancer or in remission will serve as the heroes of the Tour CIBC Charles-Bruneau. Thanks to their involvement, stories of courage that speak to the importance of pediatric oncology research are shared with the community. Nathan Guillemette, 15, who has completed his treatments for acute lymphoblastic leukemia last February, will serve as the hero of the Trek for Hope.
The Tour CIBC Charles-Bruneau's Trek for Hope:
4 days of cycling
40 cyclists
600 km
Minimum amount of $10,000 raised by each participant
Rivière-du-Loup – Montmagny – Québec – Sorel-Tracy – Boucherville
15 volunteers
The Tour CIBC Charles-Bruneau
23rd edition
The 2018 edition runs from July 3 to 6
9 different treks
Close to 1,700 km cycled
More than 500 cyclists
More than 150 volunteers
More than 60 families
More than $25 million raised since the first Tour in 1995
$3.3 million raised in 2016
2018 objective: more than $3.3 million
Quotes
Pierre Bruneau, TVA news anchor and spokesperson for the Charles-Bruneau Foundation
"I am extremely proud to be launching the 23rd edition of the Tour CIBC Charles-Bruneau with you today. I am amazed by your unparalleled mobilization: we wish, this year, to surpass the $ 3.3 million mark collected last year. It's just amazing! What a wonderful week we will have, and what hope we give to our children. Thank you to everyone involved with the Tour."
Nathan Guillemette, 15, who has completed his treatments for acute lymphoblastic leukemia last February, hero of the Trek for Hope
"I now think of giving back. As the saying goes in hockey "Do not think about being the best OF your team, but be the best FOR your team". Well, my new team, is all the sick kids."
Pediatric cancer in Québec
Cancer is the leading cause of death due to illness among children aged 0 to 18;
One child in 400 is diagnosed with cancer before the age of 15;
More than half of children with cancer are diagnosed before the age of 5.
To make a donation
The greater public can show their support for children with cancer by encouraging the cyclists with a donation. Call 1-877 256-0404, go to charlesbruneau.qc.ca/tour-cibc
To follow the cyclists during the Tour
The public is invited to follow the cyclists by going to charlesbruneau.qc.ca/tour-cibc or visiting the Foundation's Facebook, Twitter, Instagram (#TourCCB) and YouTube platforms. Video capsules, photos and daily updates will be posted for the duration of the event.
About the Charles-Bruneau Foundation
The Charles-Bruneau Foundation is proud to be the largest funder of pediatric hematology oncology research in Quebec. The latest commitments announced are necessary to allow major breakthroughs in research.
In the next couple of years:
$ 22 million will be invested in the Unité de recherche en hémato-oncologie pédiatrique Charles-Bruneau at CHU Sainte-Justine
$ 4 million will also be donated to the Montreal Children's Hospital
Two objectives will serve to guide researchers: finding a cure for the 20% of children whose cancer is resistant to treatment, and improving the quality of life of children in remission so that they can enjoy a true recovery. While these commitments are ambitious, the Foundation is confident that it can count on its loyal partners and the people.
Over the past 28 years, the sum of $15 million has been invested in research, and an additional $40 million has gone toward the construction, procurement and development of a Cancer Centre, a research centre and three Charles-Bruneau units in Québec.