Teams dedicated to curing my daughter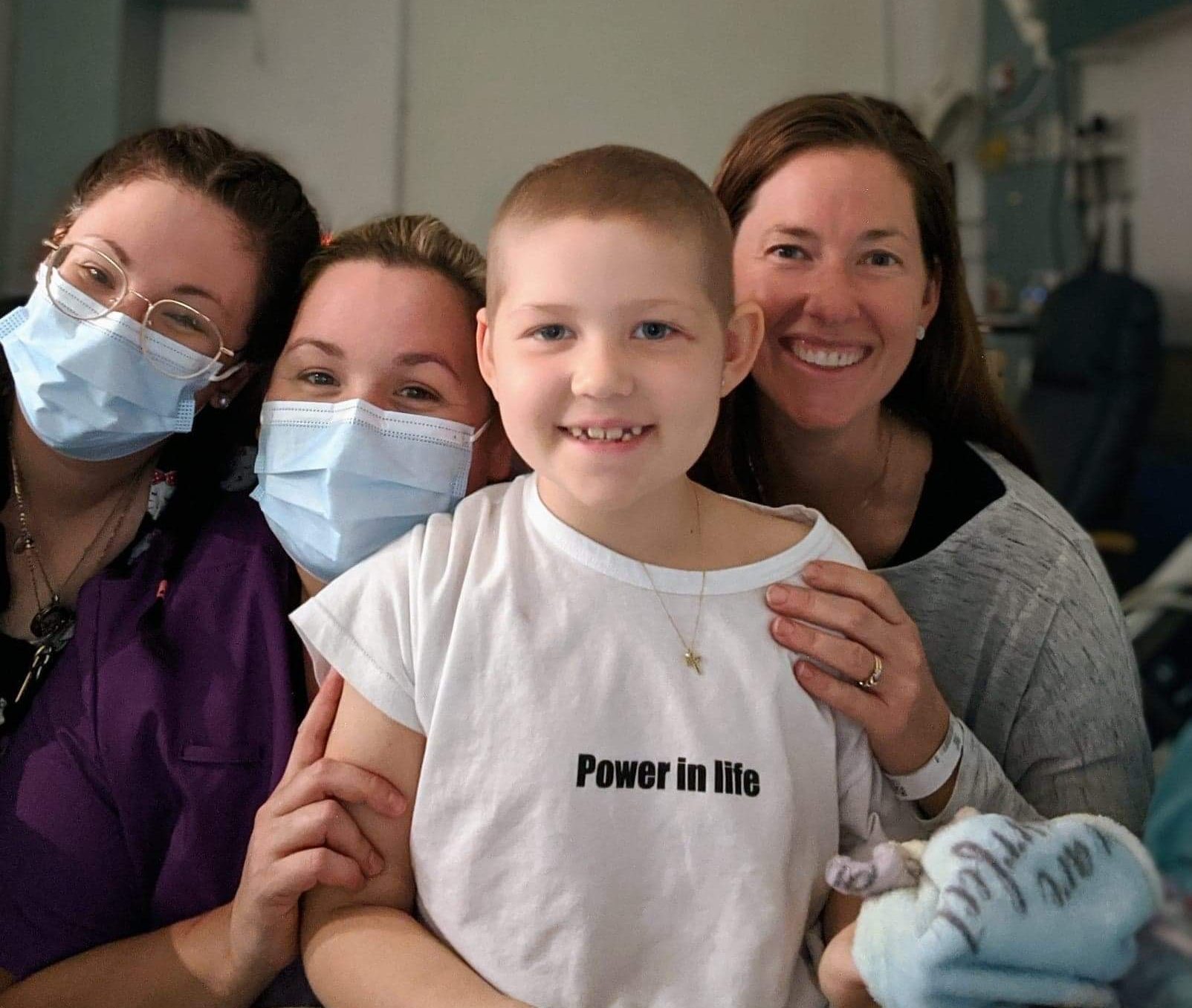 Eva has spent the last six months at the CHU Sainte-Justine's Centre de cancérologie Charles-Bruneau, in a battle to overcome a bout with acute myeloblastic leukemia. A difficult journey, but punctuated by beautiful encounters on a human level according to his mother's testimony.
" In the past six months, we've spent more time at the hospital than at home. The Centre de cancérologie Charles-Bruneau at CHU Sainte-Justine has become our second home, our second family. Because we were isolated from our loved ones due to the pandemic, it fell upon the doctors, nurses and care attendants to help us navigate the ups and downs brought about by our daughter's disease. This is our story. " — Chantale Perron, mother of 6-year-old Eva, in remission from cancer.
" In April 2020, our daughter Eva, my little ray of sunshine, was diagnosed with acute myeloid leukemia, with a presentation of granulocytic sarcoma. On initial examination, Eva's bone marrow seemed normal, yet a malignant mass measuring 10 cm in diameter had lodged itself in her mandible (lower jaw). When the diagnosis was announced, the doctors informed us that this type of cancer was extremely rare, occurring only every 15 to 20 years. What's more, they added, there was very little documentation on the specific treatment protocol to follow to eradicate it.
To this day, my recollection of the moment when it was announced remains hazy. Between the specialists' explanations and the myriad questions that popped into our heads, plenty of tears were shed. That said, my husband and I had to remain attentive to all the information on cancer and the treatment process during our appointments with oncologists. At times, we had to take turns not to miss out on any important details.
In spite of the uncertainty, I felt we were in good hands from the very outset of our dealings with the medical staff, and I trusted that this was the best place for our daughter to receive adapted care. The doctors were calm and considerate during our meetings. And when it came to our daughter's care, they already had a game plan in mind.
Still, our first hospitalization was extremely difficult, as it coincided with the start of the COVID-19 pandemic. Our contacts with the outside world were highly restricted, with Eva confined to her room 24 hours a day. For a 6-year-old girl who was eager to burn off some steam and explore her new environment, observing this measure was no small feat!
What saved us during the period of isolation was the warm and empathetic presence of all the staff. Often, they made us forget that we weren't allowed to walk around or receive visits.
On September 18, 2020, after 35 days of hospitalization, Eva finally sounded the bell symbolizing the successful completion of her treatment and her discharge from the hospital! Today, we're back in our family cocoon, and words cannot express how grateful I am to once again have my daughter at my side. In order to stay healthy and protect Eva's health, we have had no physical contact with our family and friends; but long live technology! We're taking time to reconnect as a family, go hiking in the mountains, and play outdoors.
Eva is so happy to see her brother and her first-grade friends again. She practices dance and gymnastics at home. Since her return from the hospital, she likes to play nurse and take our vital signs. For Halloween, she even asked me to find her a real nurse's uniform!
Now that the disease and those trying times are behind us, I feel deeply compelled to express my heartfelt thanks to all the people we met on the path to recovery. Thank you for the time and energy that you invest every day in improving outcomes for our children. Thanks to your dedication and involvement, Eva received the best care available in her battle against cancer.
In addition to the care dispensed, my little girl was surrounded by dedicated and passionate people who supported her throughout her fight and went beyond the call of duty. I want to convey to them how much I appreciate the spirit of friendship and support they showed us.
Once again, thank you for all that you do for our children. The human aspect of our experience will be forever engraved in our hearts! "
---
Curing children with cancer our core concern
Since the Fondation's inception in 1990, the path embarked upon by each child diagnosed with cancer has filled us with pride.
In 30 years, pediatric hematology and oncology research has advanced by leaps and bounds, so much so that 80 percent of children diagnosed with cancer nowadays recover from the disease. We must continue to build upon this progress.
You too can support pediatric hematology and oncology research and thus help us reach our objective faster by making an online donation for an amount of your choosing.