A $10,000 donation and promising new goals for Brasseurs du Monde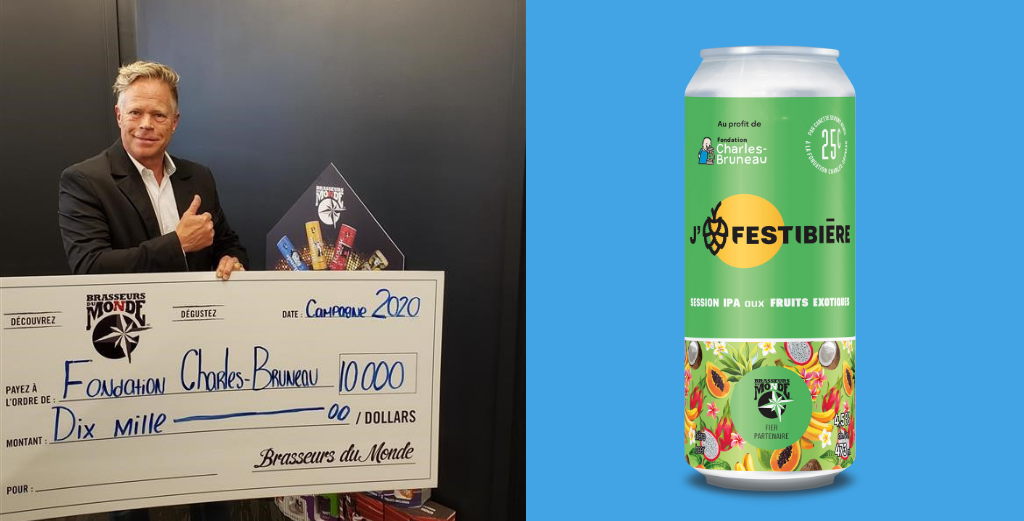 The Fondation Charles-Bruneau would like to warmly thank Brasseurs du Monde for its generous donation of $10,000, raised through a fundraising campaign in collaboration with Festibière and IGA merchants.
During the 2020 summer season, as part of a partnership with Festibière, Brasseurs du Monde produced three exclusive beers to benefit the Charles-Bruneau Foundation, which were distributed on the brasseursdumonde.com website and at IGA stores across Quebec. Thanks to this special collaboration, $10,000 was raised to support hopeful research projects on pediatric cancer.
Proud of this success, Brasseurs du Monde is joining forces with Festibière again for the summer months of 2021. Together, they have created a new series of three exclusive microbrewery beers to benefit our cause. For each can sold online or in various points of sale (grocery stores and specialized convenience stores), Brasseurs du Monde will donate $0.25 to the Fondation Charles-Bruneau. IGA will add a donation of $0.25 to this amount when the purchase is made at one of its stores. This is a great way to encourage the brewing community and to help families with a child with cancer!
Gilles Dubé, president and general manager of Brasseurs du Monde, explains how this collaboration came about: "Last summer, the Festibière festivals in Quebec City, Levis and Sherbrooke had to be cancelled because of the pandemic. A very sad situation for everyone… So we were looking for a way to give beer lovers and festival regulars a remote experience. The idea of donating a portion of the profits from the sale of the beers to a Quebec organization came naturally. For us, it was really important to help children who are fighting a serious illness like cancer. We even thought we could do more, so we contacted IGA, a major partner of the Charles-Bruneau Foundation for several years now. We asked them for their support in distributing the beers and raising even more funds for this Foundation, which is very important to them. They gladly accepted and their help allowed us to donate an incredible $10,000 to the Charles Bruneau Foundation in 2020."
On the company's new philanthropic commitments for the 2021 season, Dubé continued: "My team and I are very proud to announce that the collaboration has been renewed with each of the parties for the 2021 summer season. Expect to see new official Festibière beers on the shelves of IGA merchants and in our other points of sale as of mid-May! Again this year, we hope people will sample our beers in large numbers to help us reach new goals to help even more children living with cancer."
Discover Brasseurs du Monde and its three beers benefiting the Charles-Bruneau Foundation by visiting brasseursdumonde.com.