The 22nd edition of the Tour CIBC Charles-Bruneau a huge success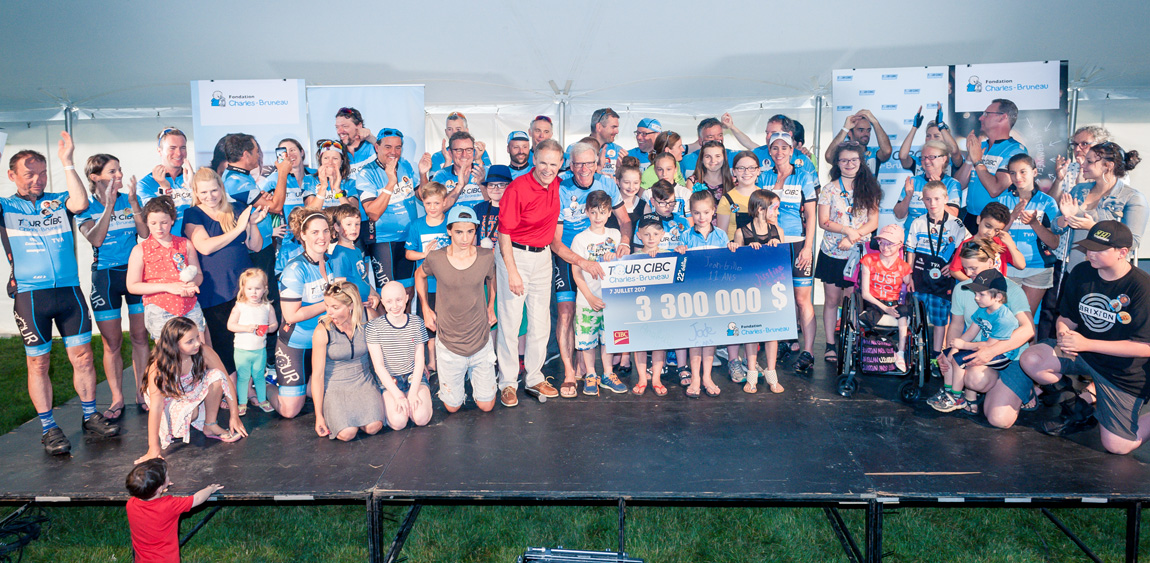 As more than $3 million raised for children with cancer
MONTREAL, July 7, 2017 — Amid a festive and euphoric atmosphere, the 600 cyclists in the 22nd Tour CIBC Charles-Bruneau were warmly welcomed today by their families, friends and colleagues as they arrived at their final destination after travelling more than 1,700 kilometres across Québec with the shared hope of putting an end to pediatric cancer.
The event's nine spokespersons – Pierre and Ginette Bruneau, Paul Doucet, Pierre Jobin, Julie Marcoux, Luce Dufault, Alexandre Dubé, Hugo Giroux and Yvan Martineau – and all the cyclists who took part in the Tour celebrated the great success of this major cycling event, which surpassed its objective by raising a record $3,300,000. The proceeds will go towards the development of projects in the area of pediatric hematology and oncology.
In order to encourage the cyclists during the course of the event and attest to the importance of investing in pediatric oncology research, the cyclists received support from children with cancer or in remission. Taking part in this year's event with their parents were Laurence Payette, 6, in remission after receiving treatment for acute lymphoblastic leukemia, Benjamin Perron, 8, in treatment for acute lymphoblastic leukemia, Steven Boudreau, 13, in treatment for leukemia, Zoé Antonecchia, 9, in remission after receiving treatment for stage-4 neuroblastoma, Charles Paradis, 16, in remission after receiving treatment for Hodgkin's lymphoma, Joshua Rothman, 11, in treatment for a brain tumour, and close to 60 other children paired with cyclists.
The 2017 Tour CIBC Charles-Bruneau in numbers
22nd edition
The 2017 edition took place on June 10 and from July 4 to 7
7 separate treks
Close to 1,700 km
Almost 600 cyclists
Close to 100 volunteers
More than 80 families
More than $21 million raised since the first Tour in 1995
$3 million raised in 2016
2017 objective: $3 million
2017 result: $3.3 million
Next edition: July 3-6, 2018
Since its very inception, the Fondation Charles-Bruneau has always been a family affair. It began with the story of my family, and it still is to this day, with Ginette, Geneviève and Charles-Olivier taking part again this year. And then there's all the people who make up our extended family, because, like us, they know that when faced with adversity, families stick together. That's what we do here, and we'll continue doing just that for as long as it takes.
Pierre Bruneau, TVA news anchor and spokesperson for the Fondation Charles-Bruneau
CIBC is proud to share in this immense success! The efforts deployed by all the sponsors, cyclists and volunteers have paid off in spades with the announcement that the incredible sum of $3.3 million was raised! Our heartfelt thanks go out to our clients, employees and partners for getting involved and believing in the event as much as we do.
Sylvain Vinet, Senior Vice-President, Eastern Canada Region, Retail markets, CIBC, and Vice-President of the Fondation Charles-Bruneau Board of Directors
Pediatric cancer in Québec
Cancer is the leading cause of death due to illness among children aged 0 to 18;
One child in 400 is diagnosed with cancer before the age of 15;
More than half of children with cancer are diagnosed before the age of 5.
About the Fondation Charles-Bruneau
The Fondation Charles-Bruneau recently made a commitment to invest $22M in research. Two objectives serve to guide researchers: curing the 20% of children whose cancer is resistant to treatment, and improving the quality of life of children in remission so that they can enjoy a true recovery, free of side-effects and complications. This five-year commitment is certainly ambitious, but the Fondation is confident that it will be able to count on support from its loyal partners and the public.
Over the past 27 years, a sum of $15 million has been invested in research and $40 million has been invested in the construction, development and procurement of a hospital centre and three Charles-Bruneau pediatric oncology units in Québec.