[VIDEO] 5 years of remission for Florence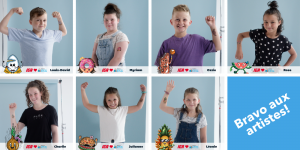 A few days ago, Florence, a young woman well known and greatly appreciated by the Charles-Bruneau family, rang the bell for a second time: 5 years of remission. 5 years of resilience. 5 years of hope. life.
"There are so many people who are important to me, who have had a major impact on my life. I wanted to shine a light on them. I want to celebrate this day not only for myself, but also to give a little bit of hope to everyone who wants to reach this date, which I myself have waited so long for. And in thought to all those [who will never reach it] ."
In a video co-directed with her lover Nicolas, Florence takes us on a journey through her adolescence, touched by the disease but above all illuminated by a thousand and one inspiring encounters and achievements. Six minutes of words and images that go straight to the heart! (in French only)
---
Procuded by H2 Productions (Florence Breton and Nicolas Hamel).