$102,000 raised in 2022: a new record for Hamfit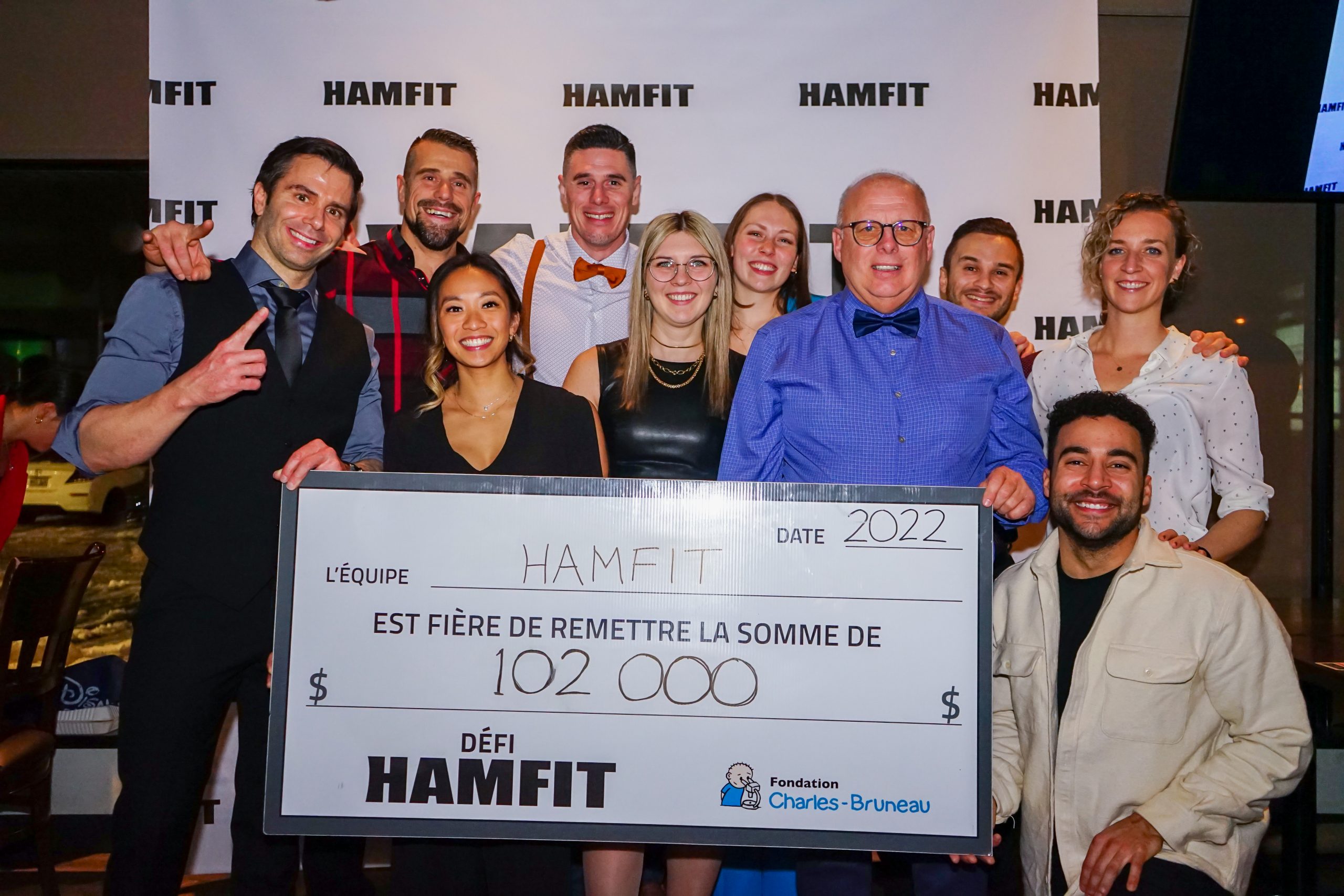 Just when we thought it had reached the top, the Hamfit community set its new record of contribution to the cause in 2022. After participating in many of the Foundation's events and organizing their own charitable activities, Jonathan Hamel and his team donated $102,000 for a cancer-free future for children in the past year – an amount that brings Hamfit's total support to $630,000.
One of the keys to Hamfit's outstanding support of the cause is undoubtedly its extensive calendar of charitable events dedicated to the Foundation. Golf and volleyball tournaments, group classes, relay races, fundraising dinners… there are many opportunities for members to train while helping children with cancer.
At the heart of these activities? A powerful and unifying community spirit. Marie-Ève Boyer, who has been training at the center for 3 years and working there as a physiotherapist for the past 2 years, is one of those people who have been greatly impacted.
"I discovered Hamfit because it was where my triathlon club was training. Three years later, I'm still there. I live 20 minutes away from it, I pass at least four other gyms on my way there, but I wouldn't change a thing. I met a real family at Hamfit, I feel at home there. I've never felt that way anywhere else."
Alongside over 500 people, Marie-Ève participated in the most recent Défi Hamfit on December 3rd and 4th. Now a tradition, this series of classes offered to benefit the Charles-Bruneau Foundation alone raised more than $30,000 in 2022.
"It has become a habit for the community. We hear about the Foundation and its importance all year long, and the Défi Hamfit is the highlight of it all. We always look forward to it!"
Public figures such as Georges St-Pierre, Isabelle Racicot, Louis Jean and Pierre Bruneau also joined the party this year.
On behalf of the entire team of the Charles-Bruneau Foundation, a huge thank you to the Hamfit community for its dedication and generosity. You are making a real difference in the lives of hundreds of children with cancer in Quebec.
Photos : Roland Yang