HAMFIT receives the Award for Outstanding Corporation in philanthropy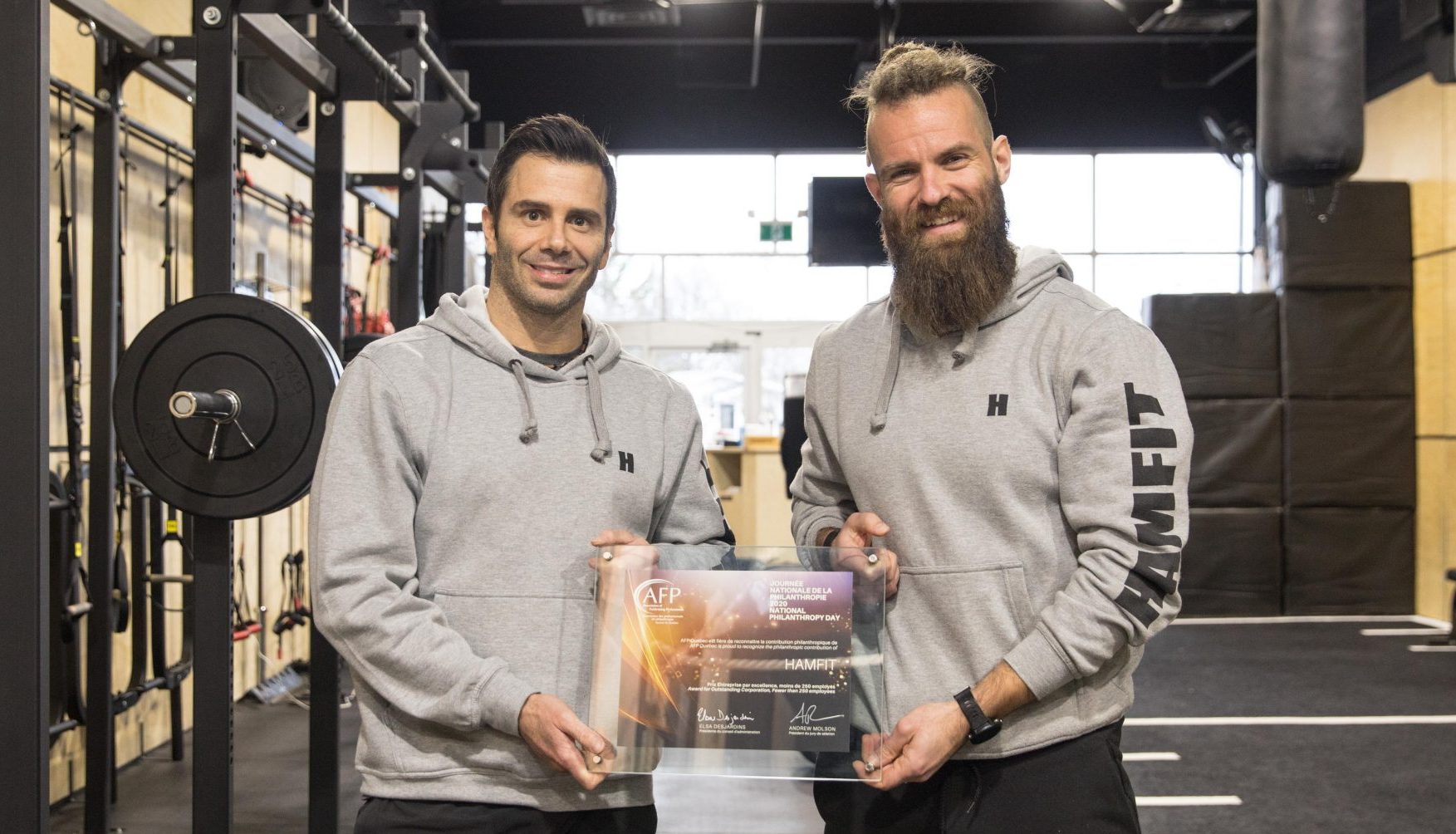 Jonathan Hamel, a passionate kinesiologist and founder of Hamfit (2011), has made physical health and social engagement core values at his Brossard-based fitness centre. For Hamel, the words "childhood" and "cancer" do not go together. And since 2017 he made it his mission to correct this injustice and wage battle against the disease by mobilizing his employees and his community to support the Fondation Charles-Bruneau.
Jonathan Hamel expresses his vision with passion: "True generosity means giving without expecting anything in return. By getting involved, I've had the privilege of meeting people who want to make a difference, and I'm proud to help advance research in pediatric hematology and oncology."
With 10 employees and hundreds of dedicated members, HAMFIT is much more than a fitness centre: it's a community of like-minded people who stay active year-round to offer children with cancer a healthy future.
On November 16, 2020, the Association of Fundraising Professionals' 2020 Excellence Awards Jury presented its Award for Outstanding Corporation (fewer than 250 employees) to HAMFIT. The team at the Fondation Charles-Bruneau took the opportunity to pay tribute to Jonathan Hamel and his employees for their significant contribution to the fight against pediatric cancer.
Through its involvement, HAMFIT has achieved concrete results: In the past four years, the company has held some 30 fundraising events and remitted more than $250,000 to the Fondation Charles-Bruneau. Not to mention its significant contribution of $90,000 raised during the pandemic.
Since May of 2020, the HAMFIT team has held four long-distance sporting challenges, with all the proceeds earmarked for the cause. At a time when so many sports and fitness companies are struggling to stay afloat due to the COVID-19 pandemic, HAMFIT's actions again attest to its love and unerring support for children with cancer!
Congratulations to Jonathan Hamel and his employees and to all the members of the greater HAMFIT community for this richly deserved honour!
To find out more about the award earned by HAMFIT, please go to https://bit.ly/36pPKJQ
To learn more about the Centre de kinésiologie HAMFIT, visit www.hamfit.com
---
Children are both our inspiration and our greatest source of wealth. They are also what motivates people with companies that support us to surpass themselves for our cause. Like HAMFIT, small- and medium-sized companies have the power to make a difference in their communities by supporting a cause they hold dear. 
Help us pursue our mission on behalf of children with cancer by getting involved!