Meet the four Heroes of the CIBC Charles-Bruneau Tour!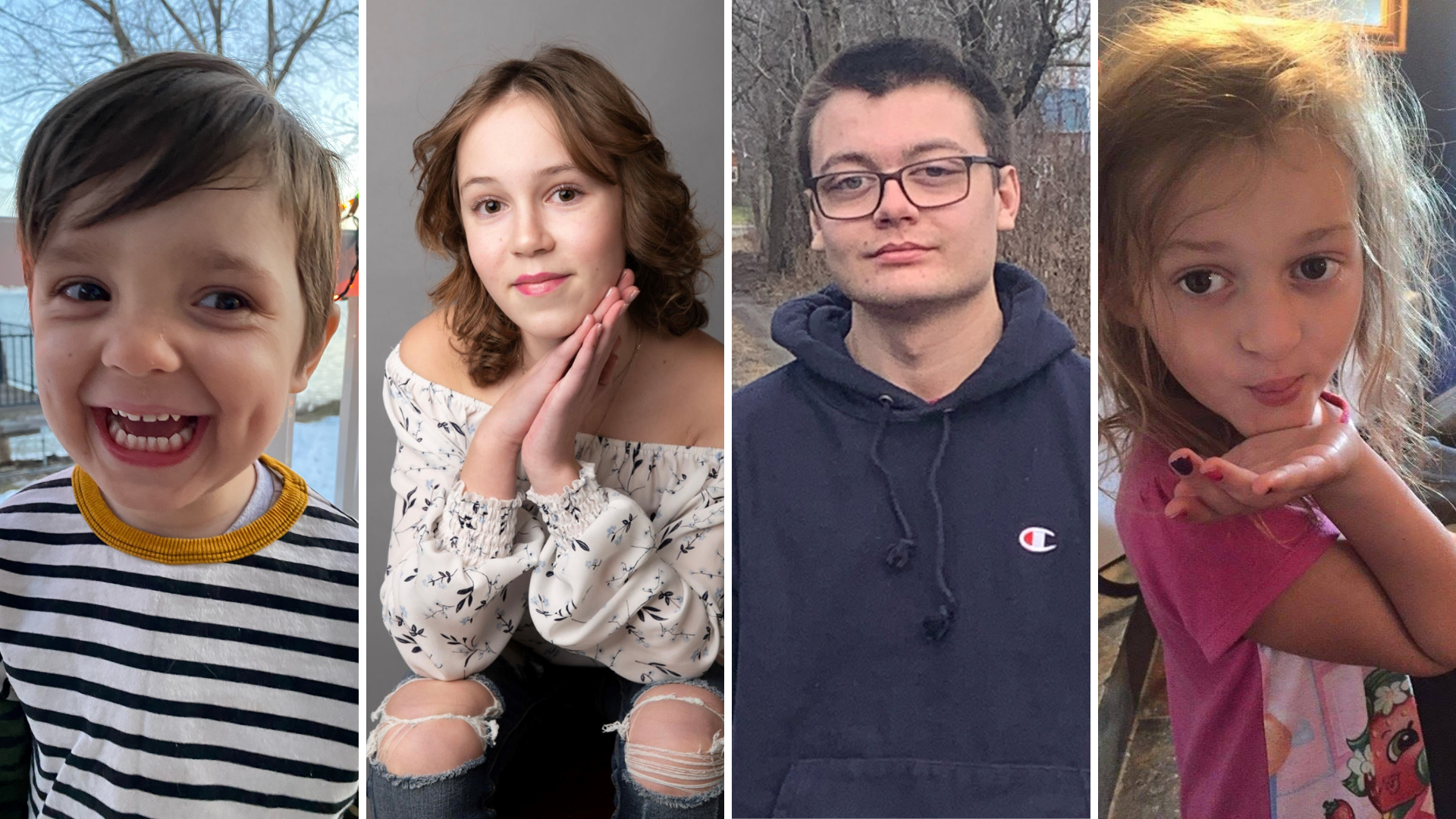 Their names are Logan, Samyra, Vincent and Noémie. Resilient, courageous and bubbly, they each have a unique story in their fight against cancer.
Because these young people and their families are the best ambassadors to represent the children who receive care at one of the four Charles-Bruneau Centres and Units, they have kindly accepted our invitation to be Heroes for the CIBC Charles-Bruneau Tour this year.
Here they are!
Logan, 3


Hero of the Discovery Trek Boucherville –  80km
A little over two years ago, Logan's parents found out that their son had neuroblastoma, a cancer that is mostly diagnosed in infants. Just eight months after his birth, the young boy underwent several treatments and numerous hospital visits with his family.
Today, at the age of three, Logan is in remission. This adorable boy has regained the energy to do what he loves most in the world: play outside and ride on a snowmobile with his mom and dad. He can also spend hours playing with his friends at daycare, or with his brother Lou and his dog Tyler.
When asked about "the future", Logan says he has two big dreams: to work in construction like Dad, and to never get sick or have to go to the hospital again.Oh, and a third one – to go to Disney World.
To make their son's wishes come true, as well as those of other children with cancer, Logan's parents have decided to take part in the CIBC Charles-Bruneau Tour this year. On behalf of all the little Logans, they thank you from the bottom of their hearts!
Samyra, 15


Hero of the 1 Day Trek – Departure from Bromont
Samyra is a spirited girl with many passions. She loves figure skating, painting on canvas and scrapbooking – in short, anything to do with the arts. In 2019, she was diagnosed with Ewing's sarcoma, a form of bone cancer.
"You could say I won the cancer lottery, because Ewing's sarcoma is a rare tumor that affects only three in a million people a year. I took it very hard at first, but I knew there was no point in dwelling on the downside. I knew in my heart that I had to stay positive."
And that's what she did! Although she was forced to put her athletic training on hold during surgery and chemotherapy treatments, Samyra continued to practice her art to take her mind off things. She has also been able to count on her family to keep her laughing and to support her through good times and bad.
If you feel like you've seen her somewhere before, it's because Samyra was the face of the 25th CIBC Charles-Bruneau Tour poster campaign. She also participated in several activities during the event to raise awareness about the importance of supporting pediatric hematology-oncology research.
Vincent, 18


Hero of the 1 Day Trek – Departure from Rougemont
Vincent is 18 years old and has a passion for video games and anything related to history. Since he was diagnosed with acute lymphoblastic leukemia three years ago, the one his parents affectionately call Vince, Vinco or Coco has never given up… quite the contrary! Determined to help other young people like him, he has become increasingly involved in the fight against cancer.
Vincent has been involved with Leucan and was a proud spokesperson for the Relay for Life. He has also served three times as honorary president of blood donor clinics in his community. This year, his empathy and generosity led him to contact the Fondation Charles-Bruneau to participate in the Tour and share his story.
Although he had to be home-schooled due to treatment, Vincent recently completed his Secondary 5 with flying colours. He is currently pursuing a CEGEP course, again at a distance. What would he like to do in the future? Become a history teacher… or a great video game player!
"Since my diagnosis, my life has been a roller coaster with the ups and downs of chemo treatments. Our motto at home is 'one day at a time'."
Noémie


Hero of the 1 Day Trek – Departure from Saint-Hyacinthe
Noémie and her family were to accompany the cyclists on the 6-day route during the 2020 Tour. At the launch party in the fall of 2019, she shared with us a message filled with gratitude and hope, and told us how much she was looking forward to taking part in the event.
It is with great sadness that we learned of her death on November 1st, following an infection that attacked her already weakened immune system.
The life of this exceptional young girl will have left its mark on all those who had the chance to know her. And because it is essential to continue supporting research to save other children like Noémie, her entire family has chosen to take part in the Tour with us this year.
Noémie, for you and for all the other children with cancer, we will continue our mission and honour your memory by being just as strong and positive as you were!
---
If you would like to support the cyclists who will ride in honor of our four Heroes, you can make a donation.